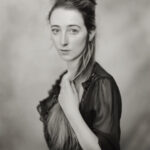 Alice Winn
Alice Winn grew up in Paris and was educated in the UK. She has a degree in English literature from Oxford University. She lives in Brooklyn.
Books by Alice Winn
"In Memoriam is set in an idyllic boarding school in the English countryside. The protagonists are Henry Gaunt and Sidney Ellwood. Gaunt is half-German, and has always been a bit out of step with his peers. He's against the outbreak of war; he's not actually a pacifist, but he thinks this particular war is going to be bad for the empire. His closest, maybe his only, friend at school is this incredibly popular boy, Ellwood, who is ethnically Jewish but culturally Christian, and is the opposite. He's romantic and excited about the war. When I was describing the children from Edwardian school books, who can't wait to go and fight when they grow up? He's like that.
So there's this conflict between them in their friendship, where they completely disagree about what this war means for their future. The rest of the school agrees with Ellwood. They're very excited when this war breaks out.
The other major plot point is that they are in love with each other, but neither of them realises; they think it's unrequited. And they aren't able to communicate how they feel because it's 1914. Anyway, they both end up at the front together, where the love story comes to a head because everything becomes so raw and intense. The question becomes not whether they love each other, but whether they will both survive."
The Best First World War Novels recommended by Alice Winn
Interviews with Alice Winn
There are dozens of novels about the First World War, many of them well worth your time. Here, Alice Winn—author of In Memoriam, a bestselling story of forbidden love between two young soldiers—selects five of the very best, including autobiographical fiction by former officers and historical novels that bring humanity to the horror of the Great War.
Interviews where books by Alice Winn were recommended
New novels are piling up ready for summer 2023—but which of them should go straight to the top of your reading list? Five Books deputy editor Cal Flyn offers a round-up of some of the most notable fiction titles of the season, including eagerly anticipated novels from Emma Cline and Naoise Dolan, plus a fictionalised account of the making of a blockbuster movie by Tom Hanks.