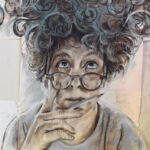 Andrea Kantrowitz
Andrea Kantrowitz, an artist and an educator, has lectured and led workshops on art and cognition internationally. She was a teaching artist in New York City public schools for many years, involved in research that demonstrated the positive impact of art for students growing up in poverty. She holds a doctorate in Art Education and Cognitive Studies from Columbia University Teachers College, an MFA from Yale, a BA from Harvard, and is an Associate Professor and Director of the Art Education Program at the State University of New York at New Paltz. Her paintings have been exhibited nationally.
Books by Andrea Kantrowitz
Interviews with Andrea Kantrowitz
Doodling is no mere pastime; drawing is a form of thinking. In fact, visuospatial reasoning underlies all thinking, as this selection of books about drawing from painter and scholar Andrea Kantrowitz shows us. Just pick up a pencil and draw!
Books by Andrea Kantrowitz