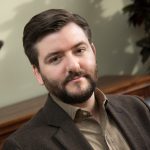 Books by Andrew Copson
"Andrew Copson's short book covers a lot of ground. It is one of the best books I've read in this excellent series. Copson in his role as Chief Executive of Humanists UK is practically involved with secularism on a daily basis, and is an eloquent defender of secularist principles, but nevertheless here provides a balanced and generous interpretation that presents arguments on different sides."
Our philosophy editor Nigel Warburton's review of Secularism: A Very Short Introduction by Andrew Copson can be found below. 
We also have an interview with Andrew Copson on the best books on humanism.