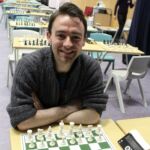 Andrew Green
Andrew Green is a chess master, full time chess teacher and founder of Edinburgh Chess Academy. Some of his students have gone on to become European and Commonwealth champions.
Interviews with Andrew Green
Chess is one of the most enduringly popular games in the world, transcending language barriers and teaching valuable life skills. Chess teacher and master Andrew Green recommends books (plus a few websites) to help beginners of all ages learn the game.