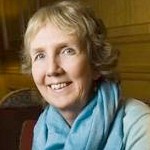 Ann Cleeves
Ann Cleeves, a celebrated crime writer and winner of the 2006 Golden Dagger prize, finds inspiration in Nordic crime fiction and is gripped by the sense of loss and isolation that permeates the rural communities in the novels she has chosen. She began writing when she and her husband were the only residents on an island nature reserve in the Dee estuary.
Interviews with Ann Cleeves
Crime writer and Golden Dagger winner, Ann Cleeves, insists the bleak, snowy, wild spaces of Nordic crime fiction are more than a backdrop. The environment really affects the people that grow out of that landscape.