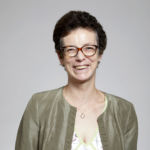 Anne Osbourn
Professor Anne Osbourn is a Project Leader at the John Innes Centre and Director of the Norwich Research Park Industrial Biotechnology Alliance. She is also an honorary professor at the University of East Anglia, and was elected a Fellow of the Royal Society in 2019. Her research focuses on plant-derived natural products with potential importance for the development of drugs and other compounds useful for medicine, agriculture or industry. Anne is also a poet, and has developed and co-ordinates the Science, Art and Writing Trust, a cross-curricular science education outreach programme.
Interviews with Anne Osbourn
The Royal Society is the world's oldest independent scientific academy, dedicated to promoting excellence in science—and that includes an annual prize for the best popular science book. Here Professor Anne Osbourn, Fellow of the Royal Society and chair of this year's judging panel, talks us through the six books that made the 2020 shortlist—and what makes them intriguing, accessible and exciting.