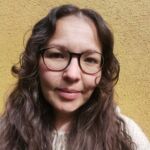 Ave Barrera
Ave Barrera, who was born in Guadalajara, México, in 1980, holds a Bachelor in Hispanic Literature at University of Guadalajara and has been awarded fellowships from the Fundación Carolina and the Mexican National Fund for Culture and the Arts. She was recipient of the Sergio Galindo Award from the Veracruz University with her first novel Puertas demasiado pequeñas (A Door Too Small). Her latest novel, The Forgery, was published in 2019 in Mexico and Spain under the title Restauración. She currently lives in México City.
Books by Ave Barrera
by Ave Barrera, translated by Ellen Jones & Robin Myers
Interviews with Ave Barrera
We asked the award-winning Mexican novelist Ave Barrera—whose latest book, The Forgery, has recently been translated into English—to recommend five classic Mexican novels. Here she discusses her choices, which include books by Juan Rulfo, Elena Garro and Nellie Campobello.