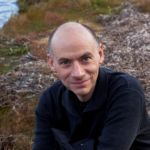 Blake Gopnik
Blake Gopnik is one of North America's leading arts writers, has served as art and design critic at Newsweek and as chief art critic at the Washington Post and Canada's Globe and Mail. He is a regular contributor to the New York Times and has a PhD in art history from Oxford University. His latest book is a magisterial biography on Andy Warhol.
Books by Blake Gopnik
"One of the major points in my book is that he's not at all the kind of holy fool or idiot savant that he still stands as in the popular imagination...He was a deeply sophisticated thinker about art, as much so as other high calibre thinkers like Donald Judd or Pablo Picasso." —Blake Gopnik
Our interview with Blake Gopnik on the Best Andy Warhol Books was published on March 5th, 2020
Interviews with Blake Gopnik
Andy Warhol's ubiquitous soup cans – and his willingness to play the naïf – eclipse the leading Pop Art figure's depth, as Blake Gopnik reveals in his magisterial new biography. Here, Gopnik discusses five key books that offer crucial insight into Warhol the man.