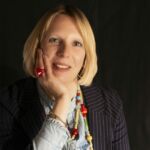 Caroline Sanderson
Caroline Sanderson is a nonfiction writer, editor and books journalist. She is associate editor of The Bookseller.
Books by Caroline Sanderson
Interviews with Caroline Sanderson
Every year the judges of the Baillie Gifford Prize pick out the best nonfiction books published in the United Kingdom over the previous 12 months. Author and books journalist Caroline Sanderson, chair of this year's judging panel, talks us through the books that made the 2022 shortlist, books that are important, readable and will hopefully surprise you.