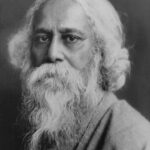 Rabindranath Tagore
Rabindranath Tagore was an Indian writer who won the Nobel prize for Literature in 1913.
Books by Rabindranath Tagore
"t's not one of his best-known books, but in my opinion, it is one of his very best. It's a collection of letters to his niece. And when he wrote these, in most cases, there would have been absolutely no thought of publication, which makes their quality all the more remarkable. You might think of this book as an eastern epistolatory nature philosophy. It contains passages of astounding beauty about the natural world that Tagore was inhabiting, which was basically the river deltas around Calcutta. It also contains his reflections on how these give us a very different sense of what's important and of how to live than one gets in the city. It's a sort of Eastern counterpart, as I see it, of Romanticism, and again, very visionary." Read more...
Rupert Read, Environmentalist
"It's a masterpiece and hugely read. If you go to any house in Bangladesh or West Bengal you will find a copy of this collection of stories. In it you will discover everything about the lives of Bengali families. It would be very unfair of me to single out one or two stories because it will undermine the others – the collection is so good." Read more...
Syed Ashfaqul Haque, Journalist
Interviews where books by Rabindranath Tagore were recommended
Syed Ashfaqul Haque is Chief News Editor at The Daily Star, the largest circulating English language daily newspaper in Bangladesh. He recommends the best five books on the country
The 2006 Nobel Peace Prize-winner talks about his creation of micro-credit and walks us through his five books on poverty and how to eradicate it – includes Zola's Germinal and Dickens' A Tale Of Two Cities
Eco-philosophy concerns itself with the intersection of ecology with philosophy—and particularly our response to industrialisation and manmade climate change. Rupert Read, the philosopher-activist and author of Parents for a Future, selects five of the best books that contemplate eco-philosophy and our place on this Earth.
Books by Rabindranath Tagore