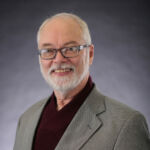 Brian Attebery
Scholar and editor Brian Attebery has won multiple awards for his work on fantasy and science fiction, mostly recently the World Fantasy Award for his longtime editorship of the Journal of the Fantastic in the Arts. In 2019 he was the Leverhulme Visiting Professor in fantasy at the University of Glasgow. He is the author of Stories about Stories: Fantasy and the Remaking of Myth and Decoding Gender in Science Fiction, among other books, and co-editor with Ursula K. Le Guin and Karen Joy Fowler of the Norton Book of Science Fiction. As editor of Le Guin's work for the Library of America he is currently working on a volume of her short fiction. He is married to folklorist Jennifer Eastman Attebery and lives on the western edge of the Rocky Mountains.
Interviews with Brian Attebery
Visionary storytelling, or fantasy, is part of our cultural DNA. Far from being simply fantastical or facile, we can use the fantasy realm as a testing ground for important ideas, argues Brian Attebery, a leading scholar of the genre. He talks us through five key works that demonstrate fantasy's many uses, from 1922 through 2010.