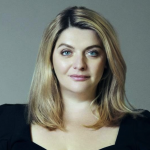 Bryony Gordon
Bryony Gordon is a British newspaper columnist and the author of two bestselling memoirs, The Wrong Knickers and Mad Girl.
Interviews with Bryony Gordon
Writing about her life in memoirs and a newspaper column allowed the author Bryony Gordon to "join the dots" to see the true face of her own mental illness. Here, she chooses five books to help with depression, books in which she has found solace and a sense of community among those who suffer from depression.