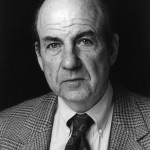 Calvin Trillin
Calvin Trillin is an American journalist, memoirist and humorist. He has been a staff writer for the New Yorker since 1963 and has written more than 26 books.
Interviews with Calvin Trillin
The American journalist and humorist, Calvin Trillin,  talks us through his own favourite memoirs.
Interviews where books by Calvin Trillin were recommended
As a young Dutch Jewish girl, Johanna Reiss survived World War II hidden in the attic of a farmer called Johan Oosterveld. Her memoir of that time, The Upstairs Room, is still read in schools today. But while she was researching that book in 1969, her American husband, Jim, killed himself. In this interview, she recommends books on the painful subject of suicide, as well as the music that helped heal the pain.