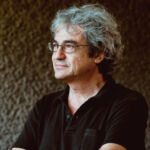 Carlo Rovelli
Carlo Rovelli is a theoretical physicist. He is director of the quantum gravity research group of the Centre de Physique Théorique in Marseille, and his books Seven Brief Lessons on Physics and Reality is Not What It Seems were international bestsellers translated into forty-one languages
Books by Carlo Rovelli
Written as a series of newspaper articles for an Italian newspaper, Italian physicist Carlo Rovelli's Seven Brief Lessons on Physics is a wonderfully clear and succinct account of where we're at with physics in the 21st century. Prepare to understand concepts like relativity for the first time, and get comfortable with how true it is that reality is not at all what it seems.
Physicist and best-selling author Carlo Rovelli's book The Order of Time brings together science, philosophy and art to unravel the mysteries of time. Carlo has done a Five Books interview on time.
Interviews with Carlo Rovelli
Our experience of time is only weakly related to the fundamental realities of physics, says the physicist and best-selling author Carlo Rovelli. Here he selects five works for understanding the nature of time in its truer sense.
Interviews where books by Carlo Rovelli were recommended
When we see a rainbow or another beautiful spectacle in nature, what is that sense of wonder we are filled with? How can we nurture it? Caspar Henderson, author of A New Map of Wonders (and Five Books science and environment editor) recommends the best books to help us develop our sense of wonder.
Aah, the holidays! Time to lie on the grass and read the latest novel. Or are you looking for something more demanding? Physicist and popular science author Jim Al-Khalili, who has just written his first sci-fi thriller, Sunfall, suggests some highly readable science books for those who prefer their holiday reads to be nonfiction.