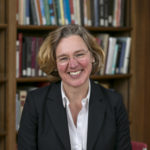 Catherine Conybeare
Catherine Conybeare is the Leslie Clark Professor in the Humanities as well as Professor of Greek, Latin and Classical Studies at Bryn Mawr.  Her research centres on late antiquity, and especially the writings of Augustine of Hippo. Her work includes The Irrational Augustine, The Laughter of Sarah: Biblical Interpretation, Contemporary Feminism, and the Concept of Delight, and The Routledge Guidebook to Augustine's Confessions. In 2019, she was awarded a Guggenheim Fellowship in recognition of her forthcoming monograph Augustine the African.
Books by Catherine Conybeare
Interviews with Catherine Conybeare
Christianity has been profoundly influenced by Augustine of Hippo (354-430 CE), but the fifth-century North African bishop has impacted almost every area of western thought: philosophy, theology, political theory, linguistics, and rhetoric. His Confessions is one of the most recommended titles on Five Books, but is it really the first autobiography? Professor Catherine Conybeare introduces us to the life, thought, and personality of this controversial yet brilliant figure. She picks the best books to learn more about St. Augustine and explores how he has been unfairly maligned.
Books by Catherine Conybeare