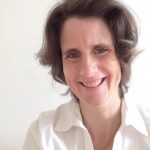 Cécile Fabre
Cécile Fabre is a professor of political philosophy at the University of Oxford and a senior research fellow at All Souls College, Oxford. She has just completed an eight year long project on the ethics of war and peace and is currently working on a research project on the ethics of foreign policy.
Interviews with Cécile Fabre
If killing is wrong, how can going to war be justified? Is it always wrong to kill civilians? If a Nazi soldier were billeted in your home, should you respond when he greets you? Philosopher Cécile Fabre chooses Five Books that help explore the profound ethical dilemmas of war.