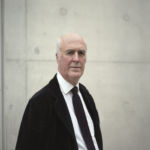 Charles Saumarez Smith
Charles Saumarez Smith has been director of the United Kingdom's National Portrait Gallery 1994-2002, director of the National Gallery 2002-2007, and secretary and chief executive of the Royal Academy 2007-2018. He is the author of East London, The Company of Artists: The Origins of the Royal Academy of Arts in London, and The National Gallery: A Short History, among other titles. He has written widely on architecture and the history of museums, including his latest book, The Art Museum in Modern Times.
Books by Charles Saumarez Smith
Interviews with Charles Saumarez Smith
How has the architecture, vision, financing and public role of art museums around the world been transformed in the last century? And what does the history of art museums presage for their future as contested sites of cultural significance in the context of the pandemic's challenge to public gathering places? Charles Saumarez Smith, one of the UK's leading museum figures, brings us five books that reveal both the historic, civic humanist mission of the art museum, and its antithesis in the face of twenty first century challenges.
Books by Charles Saumarez Smith