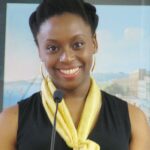 Chimamanda Ngozi Adichie
Chimamanda Ngozi Adichie is a Nigerian-born novelist who moved to the United States as a student. She gained international recognition with her novel Half of a Yellow Sun, about the Biafran War which tore Nigeria apart between 1967-70. She now divides her time between the United States and Nigeria. Her books have been translated into over 30 languages.
Books by Chimamanda Ngozi Adichie
"The central character Ifemelu is a young Nigerian woman, who moves to the USA to study. We read about her struggle to create a life in the U.S. and we also read about her life in Lagos…We learn a lot about Ifemelu thoughts through her blog which is called Raceteenth or Various Observations About American Blacks (Those Formerly Known as Negroes) by a Non-American Black." Read more...
The best books on Interracial Relationships
Like Normal People, Chimamanda Ngozi Adichie's book Americanah follows the lives of two teenagers from first love into the disillusionment of adulthood. Ifemelu and Obinze meet at high school in Lagos, Nigeria, and later part – Ifemelu departing Nigeria to study in the United States, Obinze later becoming an undocumented migrant in the United Kingdom – before coming together again as adults in Lagos only to realise that a distance has grown up between them over the years. Told with subtlety and in non-linear fashion, Adichie's captivating novel is a scintillating social commentary on the Americanisation of Africa, and the experiences of the African diaspora, all tied together in a poignant love story that unfolds over a period of many years.
From our article Books like Normal People
"This is an extremely evocative book. Chimamanda, a young Nigerian author who has spent some time in America and some time in England, did a previous novel on the Biafran war. But this is a beautiful set of short stories on what it is like for young immigrants to experience democracy, warts and all, for the first time, and to negotiate these new freedoms. It's a very personalised journey through free expression, through greater religious tolerance, through sexual freedom and exploitation, through the minimum wage and economic exploitation. It's a journey through the various isms rather than using an ism. And it is very compelling. As so many people observe, often the messages are best delivered through narrative." Read more...
John Kampfner, Journalist
***Winner of the 2007 Women's Prize for Fiction***
The most celebrated of a new generation of Nigerian novelists bravely and brilliantly tackles an event that still seems to whisper in the heart of the country's affairs perhaps more than any other: the devastating civil war of 1967-70.
"It's a novel about life in the late 1960s, before, during and after the Nigerian Civil War, also known as the Biafran War because of the attempt by the region of that name to secede. And it really highlights a fundamental problem of modern state-building in Nigeria and in many African countries and that is the challenge of forging unity amidst diversity within the often very arbitrary boundaries created by Europeans." Read more...
The best books on African Politics
Evan Lieberman, Political Scientist
Interviews where books by Chimamanda Ngozi Adichie were recommended