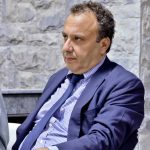 Christos Chomenidis
Christos Chomenidis is a Greek novelist who worked as a lawyer before he became an author. His work includes The Wise Kid (1993) and The House and the Cell (2005). His books have sold more than 400,000 copies and been translated into French, English, Spanish, Czech, Lithuanian, Turkish and Hebrew.
Books by Christos Chomenidis
Interviews with Christos Chomenidis
Greek myths are not all classical tales of heroes and tempestuous gods. Here, the novelist Christos Chomenidis chooses five books that get to the heart of what it really means to hail from Greece, and why it's hard to live in the wake of the Ancients.
Books by Christos Chomenidis