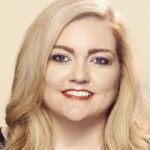 Colleen Hoover
Colleen Hoover is a bestselling American author of romance and young adult books. Her hit book, It Ends with Us, was first published in 2016 but surged onto bestseller lists in 2022 thanks to #BookTok. Hoover was the bestselling author in the UK in 2022.
Books by Colleen Hoover
Fans of blockbuster romance author Colleen Hoover must not miss her long-awaited sequel to her beloved and perennially bestselling It Ends With Us. Picking up right where the epilogue for It Ends with Us left off, we see the world through the eyes of both Lily and Atlas as they embrace a second chance at true love—that is, if Lily's ex-husband Ryle will let them.
It Ends with Us (2016) is Colleen Hoover's bestselling romance novel. It includes themes of domestic violence inspired by Hoover's childhood experiences. It Ends with Us was followed by a sequel in 2022 that also became a bestseller, It Starts with Us.