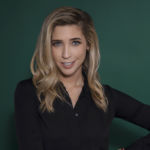 Cynthia Johnson
Cynthia Johnson is an entrepreneur, marketing professional and author. She is co-founder of Bell + Ivy, a marketing and PR firm in Santa Monica, CA, and Las Vegas, NV. Previously, she was director of marketing at RankLab, a digital marketing agency. She has been involved in influencer and marketing campaigns for PayPal, Joseph Carr Wines, and several other leading brands.  Cynthia was selected as one of the top personal branding experts of 2017 by Entrepreneur. She has has had her writing published in Forbes, Time magazine and others. Her first book Platform was published in 2019 by Penguin Random House.
Interviews with Cynthia Johnson
We all have a brand, whether we want to or not, says Cynthia Johnson—the digital marketing expert and author of Platform: The Art and Science of Personal Branding. Here she selects five of the best books to help you build a better personal brand, and thereby boost your career.