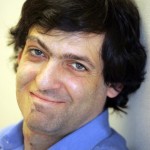 Dan Ariely
Dan Ariely is an Israeli American professor of psychology and behavioural economics at Duke University. He is the author of two New York Times bestselling books, Predictably Irrational and The Upside of Irrationality, and a popular blog
Books by Dan Ariely
Nick Harkaway says: Predictably Irrational is an examination of the way in which we make decisions irrationally, and how that irrationality can be predicted
Jonah Lehrer says: Dan Ariely is a very creative guy and was able to take this basic idea, that humans are irrational, and mine it in a million different directions.
Interviews with Dan Ariely
We can all be more aware of our surroundings and our decision-making process, says the professor of psychology and behavioural economics, Dan Ariely. He recommends five books to help us maximise our prosperity and well-being.
Interviews where books by Dan Ariely were recommended
The challenges – and opportunities – of our times have never been greater. Everything from our models of political participation to the very architecture of our brains is at stake, says the novelist and technology blogger Nick Harkaway.
Behavioural economics is a very new field, but its insights have huge ramifications for our daily lives, including life-or-death decisions. Here, author Jonah Lehrer talks us through some of its most important works.