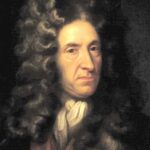 Daniel Defoe
Daniel Defoe (1660-1731) was a prolific English writer and occupies a revered place in the annals of English literature. Defoe emerged as a literary force during a tumultuous era marked by political upheaval, economic transformation, and the rise of the novel as a distinctive literary form.
Defoe's enduring legacy is perhaps best encapsulated in his masterpiece, Robinson Crusoe, a novel that continues to captivate readers with its exploration of isolation, survival, and the human spirit.
Books by Daniel Defoe
Ibn Tufail's The Journey of the Soul is a novella which was written in the 12th century. Ibn Tufail was born in a town called Guadix near Granada and he was Ibn Rushd's teacher who was a great philosopher. I think it is an extraordinary book. Many people see it as one of the inspirations behind Robinson Crusoe. There was a translation done of it from the Arabic into Latin just a few years before Defoe wrote Crusoe and there are various parallels between the two books.
"When Defoe was writing in the 1720s, the novel was a new and emerging genre. Novelists were hungry for good material, so Defoe looked back sixty years to the bubonic plague that struck London around 1665, the year before the Great Fire of London." Read more...
The Best Books to Read in Quarantine
Jenny Davidson, Literary Scholar
Interviews where books by Daniel Defoe were recommended
Times of disease and pestilence have much to tell us about the human condition. Jenny Davidson, Professor of English and Comparative Literature at Columbia University, suggests some of the best books to read if you're self-isolating or in quarantine.