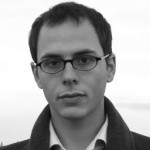 Daniel H Wilson
Daniel H Wilson  is a roboticist, screenwriter, and bestselling author. He holds an MSc in Machine Learning, and an MSc and a PhD in Robotics from Carnegie Mellon University.
Interviews with Daniel H Wilson
These days robotic technology is developing so fast that sci-fi is having a hard time keeping up, says best-selling author and roboticist, Daniel H Wilson. He picks the best books on robotics.