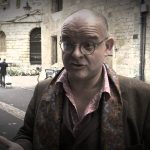 Darryl Jones
Darryl Jones is Professor and Dean of the Faculty of Arts, Humanities and Social Sciences at Trinity College Dublin. He has written extensively about horror and Victorian and Edwardian adventure fiction, and about popular literature and culture more generally. Amongst the books he has edited are M. R. James's Collected Ghost Stories, Arthur Conan Doyle's Gothic Tales, and H. G. Wells's The Island of Doctor Moreau.
Interviews with Darryl Jones
Why was 1897 such a great year for horror? How did Charles Darwin's discoveries impact the genre? Trinity College, Dublin professor Darryl Jones selects some of the best of the genre—and discusses why we find these stories so fascinating.