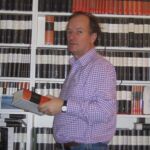 David Campbell
David Campbell is the publisher of the new Everyman's Library, now widely regarded as the definitive library of classic literature. Educated at Oxford, he previously worked for publishers Gallimard and Hachette in Paris, and was the publisher and MD of Editions du Chêne. He bought and relaunched the Everyman in 1991, after securing the hardback rights to many classic works, including books by Borges, Calvino, Nabokov and Proust. Everyman's Library is now an imprint of Alfred A. Knopf with more than six hundred titles in print.
Interviews with David Campbell
Europe may be made up of many cultures but its component parts share an artistic and literary sensibility, says Everyman's Library publisher David Campbell. Here, he recommends five European classics that everyone should read at least once in their life, including "the greatest novel ever written" and some lesser-known masterpieces.