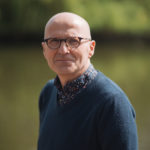 David Hargreaves
David Hargreaves recently published his first novel, Under The Table (Unbound, 2017), about a schoolmaster's memories. He is currently writing a week-by-week chronicle of the First World World War for Century Journal. Before becoming a writer David was a schoolmaster for more than thirty years, mainly at Westminster School in London, where he was head of the sixth form and a boarding housemaster. He works still as an educational consultant and a school governor.
Books by David Hargreaves
Interviews with David Hargreaves
Teachers play an important role in our educational and emotional development. But we have a complex relationship with them: one marked by firm boundaries and an unequal power dynamic. Here, novelist and former schoolmaster David Hargreaves discusses five classic works of fiction that portray teachers walking this line with varying degrees of success.
Books by David Hargreaves