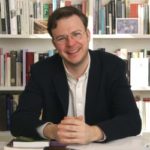 David Russell
David Russell is Associate Professor of English at Corpus Christi College, Oxford. Previously, he was a Lecturer in English at King's College London and a Fellow of the Society of Fellows in Humanities at Columbia University. His new book, Tact: Aesthetic Liberalism and the Essay Form in Nineteenth-Century Britain, was released this year by Princeton University Press.​
Interviews with David Russell
With the advent of the Victorian age, polite maxims of eighteenth-century essays in the Spectator were replaced by a new generation of writers who thought deeply—and playfully—about social relationships, moral responsibility, education and culture. Here, Oxford literary critic David Russell explores the distinct qualities that define the Victorian essay and recommends five of its greatest practitioners.