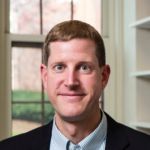 Dennis Rasmussen
Dennis Rasmussen is Professor of Political Science at the Maxwell School of Citizenship and Public Affairs at Syracuse University. His research interests centre on the Enlightenment and on the virtues and shortcomings of liberal democracy and market capitalism. His book, The Infidel and the Philosopher, was chosen as one of our best philosophy books of 2017.
Books by Dennis Rasmussen
Interviews with Dennis Rasmussen
Adam Smith tends to be seen as the founder of capitalism and modern economics, but he was, first and foremost, a moral philosopher. Dennis Rasmussen, author of The Infidel and the Professor—a book about Smith's friendship with David Hume—selects the best books by and about Adam Smith.
Interviews where books by Dennis Rasmussen were recommended
How should we live our lives? How can we best help others? What is the meaning of religious belief? The philosopher Nigel Warburton introduces us to some of the best philosophy books published in 2017.
Books by Dennis Rasmussen