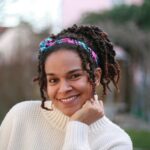 Efua Traoré
Efua Traoré is a Nigerian-German author who grew up in a small town in Nigeria. Following a career in market research Efua discovered her love of writing and won the 2018 Commonwealth Short Story Prize for Africa with her story 'True Happiness'. She wrote her debut novel, Children of the Quicksands, for her daughters to share her childhood adventures with them.
Books by Efua Traoré
An adventure novel which perfectly blends everyday contemporary life and the world of Yoruba mythology. Kuki has recently moved from Lagos to the Lekki peninsula, where a dominating bully prevents her from making friends at her new school. When Kuki meets Enilo at an enchanting abandoned mansion by the sea and they become close friends, she tries to ignore her growing sense of unease about an old curse. A lovely story about friendship, family, making the right decisions and standing up to bullying.
Ages 9-12
Interviews with Efua Traoré
Fantasy inspired by West Africa is taking the literary scene for teens and young adults by storm. These books have strong world-building and all the usual fantasy ingredients. At the same time, drawing on rich seams of mythology and magical traditions such as juju, they bring something entirely fresh to the genre. Author Efua Traoré talks us through her pick of West African fantasy novels for teenagers.