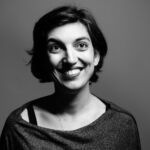 Elif Batuman
Elif Batuman is an author, academic, and journalist. She has a PhD in comparative literature from Stanford and has been a staff writer at New Yorker since 2010. In 2017 she released The Idiot, her debut novel based on her own college experience. Following the success of The Idiot, which was a finalist for the 2018 Pulitzer Prize in Fiction and for the Women's Prize, Batuman wrote a sequel, Either/Or, published in 2022, which was named one of Five Books' "Notable Novels of Summer 2022".
Books by Elif Batuman
Elif Batuman's debut novel follows Selin during her first year at Harvard and is based on Batuman's own time at Harvard. The Idiot was published in 2017, but Batuman started writing it in 2000-1 during her year off from graduate school. The Idiot has benefitted from this, having both the immediacy and energy from having been written during that period of her life, as well as maturity and confidence. The Idiot is a captivating read with an exciting cast of characters, from the charismatic and outspoken Svetlana, Selin's best friend, to the mysterious Ivan, a looming and enigmatic presence in the novel.
Either/Or, Elif Batuman's second novel, continues Selin's story as she enters her second year at university. Selin ruminates over her summer in Hungary, the people she met, her teaching job, and, more importantly, Ivan. The humour that the reader appreciates in The Idiot, both in terms of observation and self-deprecation, imbues the novel. Selin gains confidence and tests boundaries. Despite the ambivalent title, Selin makes stronger resolutions.
Interviews where books by Elif Batuman were recommended
If you're looking for a new book to keep you entertained or intellectually excited over the summer break, we've got you covered. Five Books' deputy editor Cal Flyn offers a round-up of the notable new novels of summer 2022, from snappy debuts and fantasy epics to the latest book from the most recent recipient of the Nobel Prize for Literature.