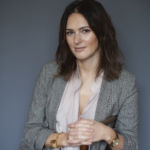 Elizabeth Day
Elizabeth Day is an author, journalist and broadcaster. She has published four novels, including Scissors, Paper, Stone, which won the Betty Trask Award. The Party was a Richard and Judy Book Club selection and has been optioned for television. Her chart-topping podcast, How To Fail With Elizabeth Day, features in-depth interviews with public figures including Phoebe Waller-Bridge, Lily Allen and Alastair Campbell as they reflect upon what they've learned from failure. The sister book, also called How to Fail, was published in April 2019.
Interviews with Elizabeth Day
Elizabeth Day, author of How to Fail: Everything I've Ever Learnt from Things Going Wrong, explains how the road to success truly is paved with failure—and why we must learn to deal with it better.