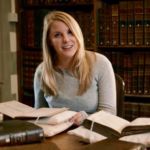 Books by Emily Thomas
***🏆  A Five Books Book of the Year ***
"She's taken a series of topics from the history of travel, from the 17th century onwards, and showed why this is a really interesting and important area for philosophers to consider…Emily combines a personal voice with highly informative, well-researched glimpses of particular philosophical travellers. And she's pulled off a really good book that is directed at the general public. It's accessible and it's entertaining, but also opens up interesting philosophical ideas. It's very original." Read more...
The Best Philosophy Books of 2020
Nigel Warburton, Philosopher
Interviews with Emily Thomas
At its best, travel broadens our minds, expands our horizons and allows us to see the world we live in differently. But it has also played an important role in the history of philosophy. Emily Thomas, author of The Meaning of Travel: Philosophers Abroad, explores the connections between her two passions—philosophy and travel—at a moment when most of us are unable to leave our houses: perhaps the perfect moment to reflect on travel's significance for human beings.
Interviews where books by Emily Thomas were recommended
2020 has been a great year for popular philosophy with many excellent books published. Here, Nigel Warburton, our philosophy editor and co-host of the Philosophy Bites podcast, picks his favourites and explains what he likes about them.
From reflections on travel and searching for a personal philosophy to live by, to books on important aspects of democracy and contagious diseases, here's British philosopher Nigel Warburton's 2020 summer reading list. All the books you need to keep you thinking over the summer, whatever it may hold and wherever you may be.