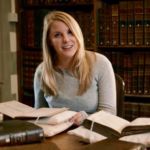 Books by Emily Thomas
"This topic brings two things I really love together. I've spent years of my life backpacking and I've always been a bit obsessed with travel. Having spent my entire adult life as a professional philosopher, I was suddenly gripped with the obsessional idea of writing something about philosophy and travel. When I started, I wasn't sure if I would find anything. It's not a topic that's talked about anywhere. I thought it was possible I would begin research and find that philosophers are just not interested in travel and that philosophy and travel have never interacted. Yet to my delight I found they've interacted a lot and there's plenty to look at."
Emily Thomas also spoke to our philosophy editor, Nigel Warburton, about the best books on the philosophy of travel.
Interviews with Emily Thomas
At its best, travel broadens our minds, expands our horizons and allows us to see the world we live in differently. But it has also played an important role in the history of philosophy. Emily Thomas, author of The Meaning of Travel: Philosophers Abroad, explores the connections between her two passions—philosophy and travel—at a moment when most of us are unable to leave our houses: perhaps the perfect moment to reflect on travel's significance for human beings.
Interviews where books by Emily Thomas were recommended
2020 has been a great year for popular philosophy with many excellent books published. Here, Nigel Warburton, our philosophy editor and co-host of the Philosophy Bites podcast, picks his favourites and explains what he likes about them.
From reflections on travel and searching for a personal philosophy to live by, to books on important aspects of democracy and contagious diseases, here's British philosopher Nigel Warburton's 2020 summer reading list. All the books you need to keep you thinking over the summer, whatever it may hold and wherever you may be.