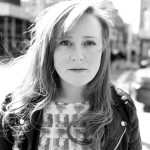 Emma Jane Unsworth
Unsworth's first novel Hungry, the Stars and Everything (Hidden Gem) won a Betty Trask Award from the Society of Authors and was shortlisted for the Portico Prize 2012. Her second novel Animals was published by Canongate in May 2014 and won a Jerwood Fiction Uncovered Prize 2015. She is writing a third novel and the screenplay of Animals, which has been optioned by BAFTA-nominated producer Sarah Brocklehurst and awarded development funding by the BFI.
Books by Emma Jane Unsworth
Interviews with Emma Jane Unsworth
The award-winning writer recommends the best books on friendship, the theme of her latest novel Animals.
Books by Emma Jane Unsworth