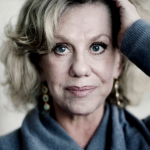 Erica Jong
Erica Jong, author of Fear of Flying, is a novelist, poet, and essayist whose work helps provide women with a powerful and rational voice in forging a feminist consciousness. She has published 20 books, including eight novels, six volumes of poetry, six books of non-fiction and numerous articles in magazines and newspapers such as The New York Times, The Sunday Times of London, Elle, Vogue and The New York Times Book Review.
Interviews with Erica Jong
The celebrated feminist gives us her view of essential reading for women – and says the gender revolution is far from over
Interviews where books by Erica Jong were recommended
The feminist author chooses liberating literature for women, from Virginia Woolf to Erica Jong. She says that men still don't share equal responsibility in the home, and that life after divorce can be easier.