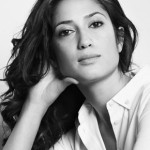 Fatima Bhutto
Fatima Bhutto is a Pakistani journalist, poet and novelist. Her father, Murtaza Bhutto, son of Pakistan's former president and prime minister, Zulfikar Ali Bhutto, and an elected member of parliament, was killed by the police in 1996 in Karachi during the premiership of his sister, Benazir Bhutto.
Books by Fatima Bhutto
This book is unflinching in terms of exploring the family dynamic. It's an insider's perspective on a feudal family
Interviews with Fatima Bhutto
Author and journalist Fatima Bhutto says that to understand Pakistan you must first fully appreciate the devastating impact of American foreign policy on the young nation.
Interviews where books by Fatima Bhutto were recommended
The president of the Asia Society discusses the changing role of women in Asian countries and how women have reached positions of leadership there