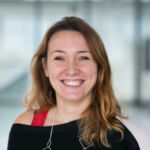 Federica Romei
Federica Romei is a Fellow at Hertford College, Oxford and Associate Professor in Economics at Oxford University. Previously she has taught at the Stockholm School of Economics. She has also worked at the Centre for Economic Policy Research and the Banco de Espana.
Interviews with Federica Romei
Inflation has been under control in the developed world for decades now. Many assumed we had it beaten, but it has picked up recently and is once again a major policy concern. Here, Oxford economist Federica Romei chooses five books to help you understand inflation from a historical and theoretical perspective, and when, if and why you should worry about it.