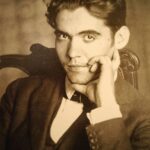 Books by Federico García Lorca
Lorca is someone who is deeply, deeply engaged in this kind of poetic, mystical, surrealist, non-rational theme that is so much part of Spain. And I think he, more than any other person, really gets to grips with it.
Interviews where books by Federico García Lorca were recommended
From the book Robinson Crusoe was based on to surrealist filmmakers, Jason Webster chooses five books that illustrate the power of the Spanish imagination.
Books by Federico García Lorca