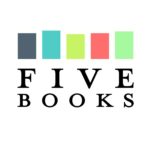 Five Books
Five Books is an expert book recommendation website based in Oxford. The CEO is Juliet Frost, the editor is Sophie Roell and the deputy editor is Cal Flyn. Benedict King is a contributing editor also based at HQ. Further afield, Eve Gerber is our US editor, Romas Viesualas our art editor and Nigel Warburton our philosophy editor. Dan Schoeffler is our adviser and Al Breach our financial backer.
Interviews with Five Books
If you want to know more about Kamala Harris, the 49th Vice President of the United States and the first woman to hold the job, her own memoir is a great place to start, especially as there aren't (m)any books about her yet. It's available for different age groups, including children and teenagers. We've put together this list of her books at speed, and will update it as soon as we can do a full Five Books interview.
If you're stuck in lockdown during the COVID-19 pandemic, it might be time to finally crack open that one long read you always meant to get around to, but slid down your list of books for whatever reason—not enough time, too many pages. Problem is, there are so many monster doorstoppers, and it can be hard to tell which are worth your time. The Five Books editors weigh in:
If you're of a certain age, reading a physical, paper book is almost always a more pleasurable experience than reading on an electronic device. Still, ebooks have some advantages that make them difficult to resist, not least of which is cost. Here Five Books editors share tips on when they've found ebooks particularly useful.