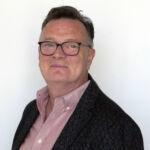 Frank Wynne
Frank Wynne is an Irish literary translator from French and Spanish. Over a career spanning more than twenty years, he has translated a wide variety of authors, including Michel Houellebecq, Patrick Modiano, Emiliano Monge, Alice Zeniter and Virginie Despentes. His translations have garnered a number of award, including the IMPAC Dublin Literary Award (2002) and the Independent Foreign Fiction Prize (2005). He has twice been awarded both the Scott Moncrieff Prize for translation from the French and the Premio Valle Inclán for translation from Spanish. Most recently, his translation of Animalia by Jean-Baptiste del Amo won the 2020 Republic of Consciousness Prize.
Interviews with Frank Wynne
The International Booker Prize celebrates the best fiction in translation published over the previous year. Frank Wynne, acclaimed translator and chair of the 2022 judging panel, tells Five Books about the six novels that made the shortlist, and reminds readers that world literature need not be tough, consumed only in the interests of self-improvement—but is often joyful, surprising and full of feeling.