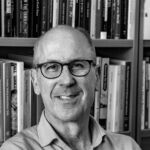 Gary Gerstle
Gary Gerstle is Paul Mellon Professor of American History Emeritus and Paul Mellon Director of Research at the University of Cambridge. He is the author and editor of more than ten books, including American Crucible (2017) and Liberty and Coercion (2015). His most recent book is The Rise and Fall of the Neoliberal Order: America and the World in the Free Market Era (2022).  He is a Guardian columnist and has also written for the Atlantic Monthly, the New Statesman, the Nation, and the New York Review of Books.
Books by Gary Gerstle
"This is a big ideas book. Gary Gerstle is an American historian based in the UK. What he's analyzed here is what went wrong with the whole concept of free market capitalism, which he describes as neoliberalism…What's interesting is that rather than confining it to Reagan, Milton Friedman, and other people you might naturally think of, he points out how neoliberalism became embedded across the political spectrum. Via Bill Clinton, it came to Tony Blair and Gordon Brown in the UK. It has left us with the consequences that we're now facing—inequality, volatility and a certain kind of disdain for the rules-based order. This was all on the back of a legitimate desire to exploit free trade, free markets, and globalization." Read more...
The Best Business Books of 2022: the Financial Times Business Book of the Year Award
Andrew Hill, Journalist
Interviews with Gary Gerstle
Neoliberalism is, arguably, the dominant political and economic ideology of the Western world, although its dominance is contested and the ills of the world are often laid at its door. Here Cambridge historian Gary Gerstle discusses five books that will help you understand neoliberalism's origins, its ambitions and why it has been supported and opposed with such partisanship.
Interviews where books by Gary Gerstle were recommended
For its annual book award, the Financial Times looks beyond books that might be filed under business in a bookshop, picking out books that are compelling and enjoyable, explains Andrew Hill, the newspaper's senior business writer. He talks us through the 2022 shortlist: books that shine a light on obscure but immensely important companies or industries, or address some of the bigger challenges facing our capitalist economies.