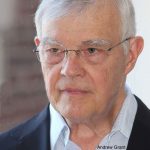 Gary Gutting
Gary Gutting is a professor of philosophy at the University of Notre Dame. He is one of the leading Foucault experts and has written extensively on French-European philosophy, philosophy of science, and the philosophy of religion. Gutting has also published articles for The New York Times and The Stone. His recent book Talking God: Philosophers on Belief (2016) contains interviews with twelve distinguished philosophers`–believers, agnostics, and atheists—on the concept of God and understandings of religion.
Interviews with Gary Gutting
"Do not ask who I am and do not ask me to remain the same," wrote Michel Foucault; a brilliant transdisciplinarian whose work spanned philosophy, history, social theory and literary criticism. He mined past ways of thinking so as to see present-day assumptions and practices afresh, explains the philosopher Gary Gutting.