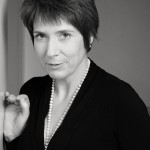 Georgina Godwin
Georgina Godwin is a journalist and broadcaster now based in London.  She is the founder of NicoPipe Ltd and in her home town of Harare, Zimbabwe, she was for 10 years presenter of the prime time Good Morning Show for Radio 1 of the Zimbabwe Broadcasting Corporation, and the inaugural presenter of AM Zimbabwe, the first breakfast television show in the country. She is a co-founder of the Harare International Festival of the Arts, Hifa.
Interviews with Georgina Godwin
Via five engrossing memoirs, the Zimbabwe-born journalist Georgina Godwin talks wistfully about her country; amongst the older generation, she says, there is a feeling that Rhodesia was sold down the river by Britain and things needn't have turned out the way they did.