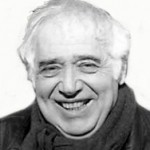 Harold Bloom
The author of more than 40 books, Harold Bloom is Sterling Professor of Humanities at Yale, where he has been teaching since earning his doctorate in 1955. The theory of literary evolution he developed in his 1973 book The Anxiety of Influence is considered seminal. His 1994 work Western Canon made Bloom a household name. One of America's preeminent literary critics, Bloom has been translated into 40 languages, and is a MacArthur Prize fellow. He called his 2011 book, The Anatomy of Influence, his "swansong" and in 2015 published The Daemon Knows: Literary Greatness and the American Sublime.
Interviews with Harold Bloom
The distinguished literary critic Harold Bloom discusses the five works of literary scholarship that have most influenced him.