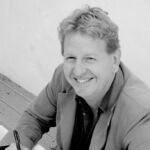 Harry Sidebottom
Harry Sidebottom teaches Ancient History at Oxford University. His scholarly interests include Greek culture under the Roman empire and warfare in classical antiquity and he is the author of Ancient Warfare: A Very Short Introduction. His historical novels include the Warrior of Rome series, which starts off in 255 with Fire in the East—where Romans are fighting off the Persian Sassanid Empire—and centre on a Roman soldier called Ballista. He is also the author of The Throne of the Caesars trilogy, also set in the 3rd century, as six men lay claim to the emperorship in a single year.
Books by Harry Sidebottom
Fire in the East by Oxford ancient historian—and expert on ancient warfare—Harry Sidebottom is the first in his Warrior of Rome series. Asked to describe what the series is about in ten words Sidebottom said, "Ballista, Warrior of Rome, Hard Action, High Scholarship, Low humour."
Warrior of Rome series (book 8). Roman soldier Ballista, the hero of this series, is shipwrecked off Sicily with his son, where a slave rebellion is in full swing.
Many of us are familiar with the names  (and order) of the Roman emperors in their heyday—Augustus, Tiberius, Caligula, Claudius, Nero. By the 3rd century, it's hard to come up with even a couple of names. Iron and Rust, the first book in the Throne of the Caesars trilogy, opens in 235 with the murder of Severus Alexander and his mother, and the end of the Severan dynasty. The trilogy takes us through to 238, a year that saw a total of six emperors in power, most of them very briefly indeed.
While most of Harry Sidebottom's historical novels have been set in the 3rd century, this one is unusual in that it's set in the 2nd century BCE and is also a murder mystery. It follows a Roman soldier as he returns home from fighting in Greece to his farm in Calabria in southern Italy.