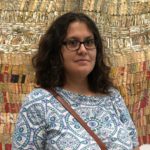 Helen De Cruz
Helen De Cruz holds the Danforth Chair in the Humanities at Saint Louis University. Her research is focused on philosophy of cognitive science, philosophy of religion, and experimental philosophy. Recent publications include Religious Disagreement (Cambridge University Press, 2019) and Philosophy through Science Fiction Stories: Exploring the Boundaries of the Possible (co-edited with Johan De Smedt and Eric Schwitzgebel, Bloomsbury, 2021).
Books by Helen De Cruz
by Helen De Cruz, Johan De Smedt and Eric Schwitzgebel (editors)
Can you learn philosophy through science fiction? The authors of this book, Helen De Cruz, Johan De Smedt and Eric Schwitzgebel, think so. Eric also spoke to us about the best books on sci-fi and philosophy.
Interviews with Helen De Cruz
Philosophy is a very verbal discipline with much effort made to express meaning through the very precise use of language. You might think that pictures wouldn't get much of a look in, but you'd be wrong, as philosopher Helen de Cruz explains. She chooses five books where the philosophical meaning of the subjects under investigation are given greater depth and clarity with the use of illustrations, from ancient Chinese philosophy through to the philosopher queens of the 21st century.