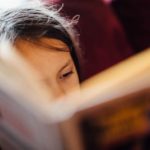 Helen
Helen loves reading, dogs, puppies and all animals – but especially dogs. Her favourite hobbies are swimming and kayaking. She and her friends are currently working on a secret project (secret from their parents) to build a real jet-pack because they want to fly. They think a jet-pack will be more fun than a rocket.
Interviews with Helen
"And what is the use of a book," thought Alice, "without pictures or conversation?" Eight-year-old Helen feels the same. Here she tells us why reading graphic novels is fun, relaxing and definitely not for babies – and recommends her current five favourites.