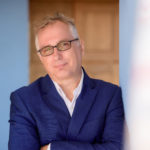 Henry Normal
Henry Normal is a writer, poet and TV and film producer. He is the founder of the Manchester Poetry Festival (now the Manchester Literature Festival) and co-founder of the Nottingham Poetry Festival. In June 2017 he was honoured with a special Bafta for services to television.
Interviews with Henry Normal
Poet, writer and Bafta winning TV and film producer, Henry Normal, talks about his experiences bringing up his autistic son, the need for acceptance and why we should all embrace our human imperfections. Along the way he recommends five books that inspired him as a young man and continue to inspire him today.