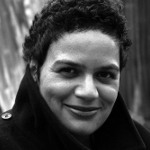 Jackie Kay
Jackie Kay was born in Edinburgh, Scotland, in 1961 to a Scottish mother and a Nigerian father. She was adopted by a white couple at birth and brought up in Glasgow. A hugely gifted poet, her poems have appeared in many anthologies, and she has written for stage and television. Her novels have been widely praised, and she was awarded an MBE for services to literature in 2006.
Interviews with Jackie Kay
The Scottish poet and novelist chooses a life-affirming anthology and celebrates new female voices, contemporary black British talent and a poet with a quirky take on everything.