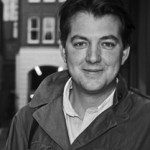 James Holland
James Holland is a historian and author. In addition to his bestselling nonfiction books about World War II, he is also the author of a number of novels, including the Jack Tanner series about a British soldier in the King's Own Yorkshire Rangers, also set in World War II. Younger readers will enjoy his Duty Calls books (fiction), or his contributions on World War II to the Ladybird Expert Series (nonfiction).
Interviews with James Holland
Historian and novelist James Holland talks us through some of his favourite memoirs and novels about the Second World War and explains his lifelong fascination with the global conflict.